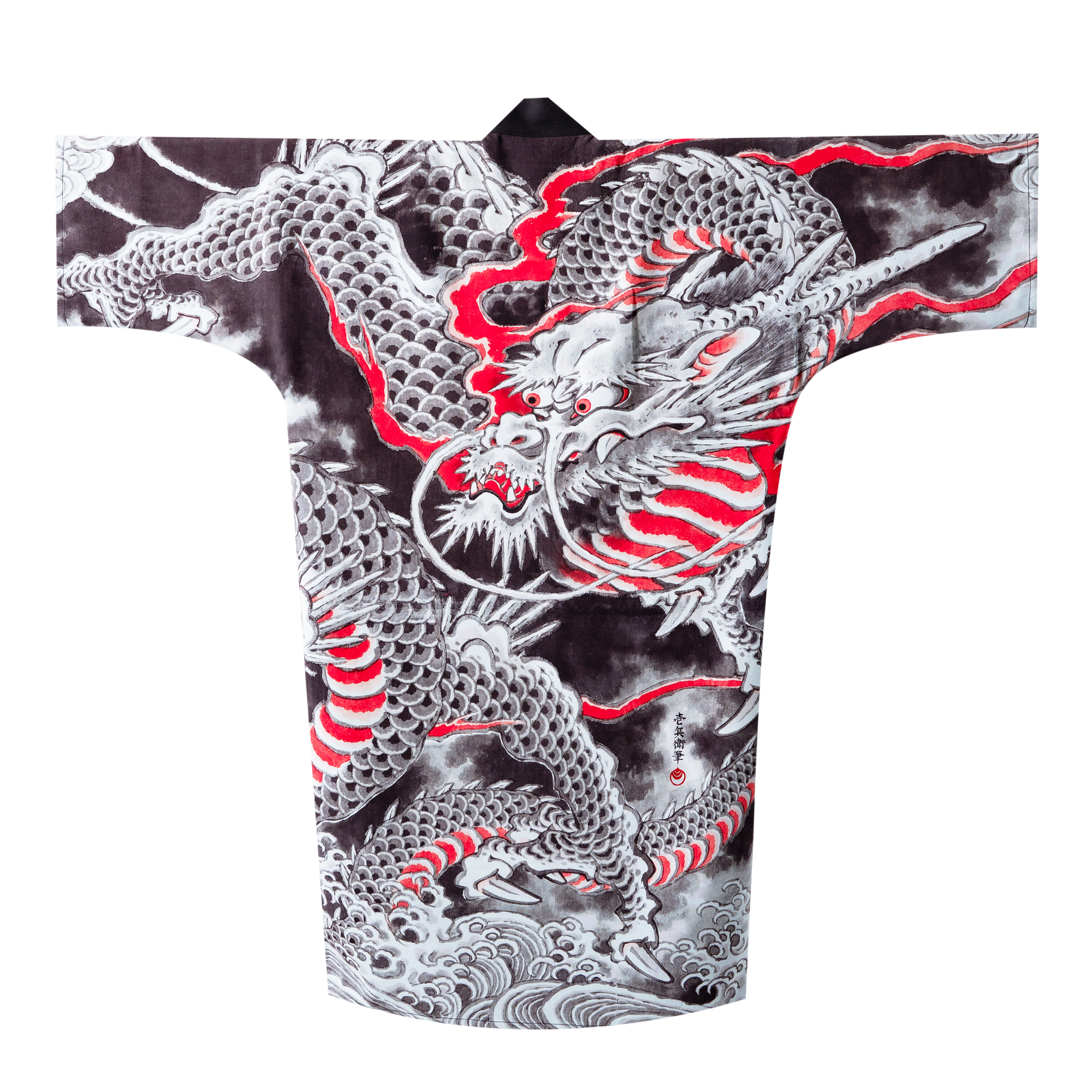 [PRE-ORDER] (UNISEX) ICHIBAY X LOCO MOSQUITO KIMONO BODYSUIT PROJECT
Regular price
$399.99
Size Chart
All items are measured in 
inches.
| | |
| --- | --- |
|   | ONE SIZE |
| Shoulder Width | 28.5 |
| Chest | 28.5 |
| Sleeve Length | 13 |
| Back Length | 45.25 |
About
Collaborative project with ICHIBAY as part of the KIMONO BODYSUIT PROJECT
100% Japanese rayon with chiffon lining
Unisex open kimono without belt and pockets
Japanese dragon, cloud & waves print design
Dark grey collar
Regular loose fit
All orders will come carefully wrapped in a special gold embossed black box along with an information booklet, postcard and stickers. 
Model is 175 cm height and normally wears size S
CRAFTED FOR ULTIMATE COMFORT
ALL KIMONO ORDERS ARE MADE-TO-ORDER AND WILL TAKE APPROXIMATELY 6-8 WEEKS TO MAKE AND DELIVER IF THERE ARE NO COVID-RELATED DELAYS.
WHEN THE PRODUCTION OF THE KIMONO IS COMPLETED, THEY WILL BE SHIPPED BY DHL EXPRESS SHIPPING. 
DRY CLEAN ONLY. DO NOT WASH. IRON AT MEDIUM TEMPERATURE & COVER WITH CLOTH.
すべての着物の注文はオーダーメイドであり、
COVID関連の遅延がない場合は、
約6〜8週間で作成および配信されます。

着物の生産が完了すると、DHLエクスプレス配送で発送されます。

ドライクリーニングのみ。洗わないでください。
中温の鉄と布で覆います。
Please Note:

This product has been individually cut & printed by our local artisans. It is characteristic of this colour printing process that each piece will have a different SHADE & TONE.
Variations of the colour and shade of the prints are inevitable and this process serves to highlight the authentic uniqueness of each product.
この製品は、地元の職人によって個別にカット
&プリントされています。
このカラー印刷プロセスの特徴は、
各ピースが異なるシェードとトーンを持つことです。

プリントの色や色合いの変化は避けられず、
このプロセスは各製品の本物の独自性を強調す
るのに役立ちます。